Exhibitors' profile
In 2020 more than 300 exhibitors awaited the visitors.

The key players of food and HoReCa sector are presenting their innovations and new product and services on the exhibition
.
Exhibitors are waited from these sectors
Hall A
– Food products
– Beverages
– Kitchen equipment & supplies
– Technologies, hygiene and cleaning products, services
– Food industry machinery & supplies
– Furniture, decoration, tableware, textiles
– Hotel equipment & supplies
– BUDATRANSPACK: Products and equipment for packaging and logistics
Hall G
– Bakery and pastry products & equipment
– Coffee products & equipment
Exhibitors 20
20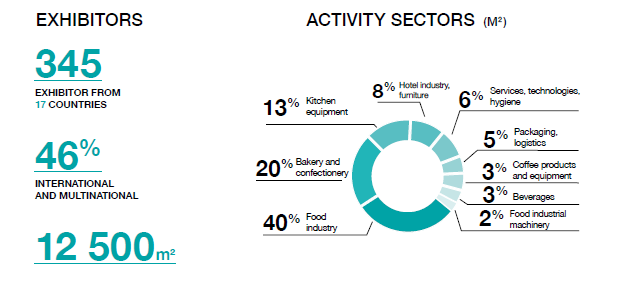 Exhibitors' testimonies
2020
"Sirha Budapest is an event where we can easily reach the professional audience and those, who are interested in gastronomy. The feedback from Italian exhibitors is always very positive and year after year there is a growing interest in the opportunity to participate.""

Ms. Zsuzsanna KISS, Italian Trade Agency (ICE)
"We were highly satisfied with the 2020 Sirha Budapest trade fair. The number of exhibitors coming to the event is constantly growing, and this attracts more and more customers every year, among which, the proportion of foreign visitors is becoming more significant every occasion. At the same time, in addition to nurturing existing business relationships and establishing new ones, Sirha Budapest offers a great opportunity to gather market information that effectively supports future sales."

Mr. János SZABÓ, Sales and marketing leader, Gasztrometál Zrt.